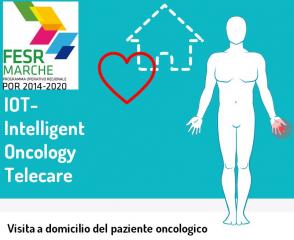 IOT "Intelligent Oncology Telecare" is a regional project made in collaboration with 10 companies, two departments of research of the "Università Politecnica delle Marche", one department of the "Università degli Studi di Camerino" and "Asur Marche". The project started in October 2017 and will last three years.
The IOT project develops an integrated system for managing oncology patients through innovative telecare devices that over and above current telemedicine standards, proposes a new and efficient home-based management system for the oncologist and the use of advanced data analysis systems.  This project wishes to be an innovative service solution and model for improving the quality of care services.
The IOT project targets the development of a new medical device, to detect the endothelial dysfunction, in particular in the cancer patients that follow a chemotherapic therapy. Nowadays, the endothelial dysfunction is evaluated by a Doppler ultrasound exam, that is a non-invasive measure, but is highly operator-dependent.
On the other hand, the new device, intended to give a non-invasive, operator-independent measurement, which can be obtained through a simple and automatic procedure which can be used by unqualified personnel. The project will create a small and highly usable device for measuring endothelial dysfunction at home. For the validation of the clinical data and the functionality, it will be necessary to continuously monitor the patients involved by providing them with a basic technological infrastructure for the detection of physiological parameters. For this reason, the work that Vivisol makes at the patient's home it is crucial, thanks to the constant nursing medical support, we could have the correct measurements of physiological parameters that are important for the validation of endothelial dysfunction.
The ASUR Marche with the oncology associations follows the home care service to the cancer patient's home.
The monitoring and diagnostic devices that are used at patient's home, constantly send all the medical information in encrypted form to a Cloud,  to be available in real time the patient's data to the clinicial.
At the end of the project, the device will be ready to be placed on the market of diagnostic biomedical devices.