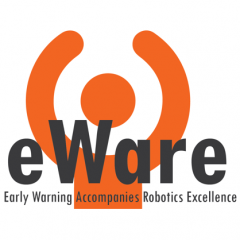 As dementia progresses from early to severe stages, the person affected needs more care and support to carry out everyday tasks. As a result, caring for a person with dementia can be a significant personal and emotional challenge and this activity can stand for some years with increasing impairments.
eWARE introduces a novel eco-system to support the wellbeing of people with dementia and their informal carers. In the project, we will integrate and adapt existing market ICT-technology and smart systems for people with dementia who live alone at home (about 70% of the people affected by cognitive impairments).
The eWARE eco-system will support and enhance the quality of life of informal caregivers and people with dementia, and more quality of professional care with lifestyle monitoring and social support robotics, providing effective responses to many key aspects in the management of these patients.
The co-design and evaluations of the eWARE eco-system will take place at four end-user sites in The Netherlands, Italy, Switzerland, and Norway with highly experienced professionals and involving a total of 300 end-users.
To successfully develop and implement the eWare eco-system, two technologies will be integrated: the lifestyle-monitoring technology of Sensara and the social robotic technology of Tinybots.
The Sensara Senior Lifestyle System is a new generation Internet of Things (IoT) service application that can help people to live at home longer, secure and comfortable, and that provides peace of mind to seniors, their loved ones and their caretakers. The Sensara Lifestyle System exists of a limited number of small sensors (5 for apartments to 8 for large houses) that are installed in someone's home – a few motion (PIR) sensors and a few open/close sensors. These sensors are installed at strategic places in the home (living room, bathroom, kitchen, hallway and front door) and they automatically connect wirelessly to a gateway that is plugged into a standard home internet router provided by their telephone or cable provider. After installation, the sensors start to collect data about what happens in the house. This data is uploaded to an analytics engine "in the cloud" and, over time, usually a period of about two weeks, the analytics engine has enough data to be able to recognize living patterns of the person in the home.
Tinybots are small social robots that help individuals with dementia and the informal caregiver. These small social robots provide emotional support and allows the (in)formal caregiver provide quality care even when the family is not physically present. The Tinybot provides stimulus for individuals with dementia by talking, giving friendly suggestions, reminders, and playing personal music.
To implement the eWare ecosystem and integrate these technologies, the project must develop: the eWare cloud that houses the DB and the mobile eWare application for caregivers.
The mobile app will support both the visualization of lifestyle monitoring data collected from Sensara sensors and the programming of reminders and messages through the Tinybot robot.
VRAI group will define and ensure privacy and data security issues on the basis of data and user security guidelines, and it will coordinate the implementation of the guidelines in a real-world scenario.