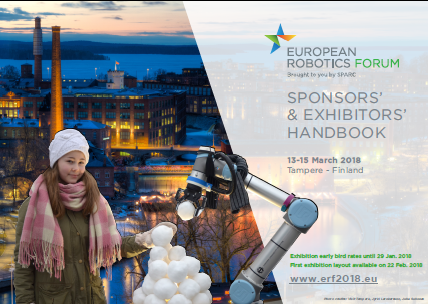 VRAI research group will attend in Tampere, Finland on 13-15 March 2018 at The European Robotics Forum (ERF2018, http://www.eu-robotics.net/robotics_forum/), the most influential meeting of the robotics community in Europe.
Under the theme "Robots and Us", ERF2018 covers current societal and technical themes related to the field of robotics. Interesting subjects will be discussed, including human-robot-collaboration and how robotics can improve industrial productivity and service sector operations. Researchers, engineers, managers, and a growing number of entrepreneurs, business people, and public funding officers from all over Europe come together to discuss technology push and market pull and how innovation in robotics can be accelerated.
VRAI research group will offer a contribution during the workshop of Dr. Ferdinando Cannella "How far/close is the Robotics from the Agriculture 4.0?".